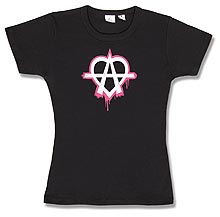 Annarchy Babydoll Tee is a t-shirt being sold in the Penny Arcade Store for $17.99.
Store Description
Edit
If she were a superhero, this symbol would be projected onto a cloud.
We rarely set out explicitly to make "characters," as established characters create - by their very nature - foul continuity. She's different though. That's probably a weird thing to say about something that I made up. We let Kiko meditate on Annarchy for a while, and this is what he came up with.
100% cotton heavyweight Beefy Tee in Black. Annarchy design on the front. Penny Arcade logo on the back in white.
Community content is available under
CC-BY-SA
unless otherwise noted.