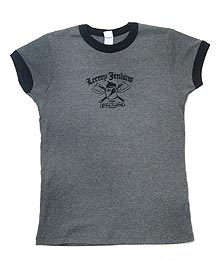 Jenkins Academy babydoll is a babydoll t-shirt being sold in the Penny Arcade Store for $17.99.
Store Description
Edit
Wear the heroic tale of brave Sir Leeroy
Many raid groups on Dire Maul, Cenarius, and other servers deal with whelp-related wipes on a daily basis. But did you know that there are proven techniques for dealing with the hatchling threat? Here at the Leeroy Jenkins Academy, we can teach you powerful tools for aggro management that can save lives.
100% cotton babydoll Ringer Tee in Graphite. Jenkins Academy design on the front in black. Penny Arcade logo on the back in black.
Community content is available under
CC-BY-SA
unless otherwise noted.