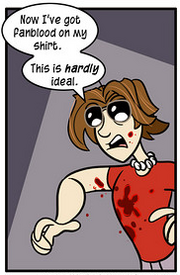 L. H. Franzibald is a known pedophile. He is also the author of The Song of the Sorcelator book series, which details the life of Grimm Shado.
L. H. Franzibald is a caricature of Tim Buckley , known as the creator of 'Ctrl-Alt-Del'.
He might also be based on Alastair J. Archibald, author of Chronicles of Grimm Dragonblaster and Questor.
He later attended the Readiation, hosted by Mr. Valgariad, only to discover that Tycho Brahe is also going to be attending. When Tycho came over to the Readiation, an assassination attempt took place, which almost resulted in the death of Franzibald.
Tycho's hatred of him runs so deep that Tycho took the time to replace every instance of Franzibald with Fagzibald on Wikipedia.
He also has a lake of money and a specially crafted golden jet ski designed to navigate its waters.[1]
According to The Trenches, another comic originally created by the Penny Arcade team, Franzibald's use of dragons and 2 wands are an emulation of Cora's father, who takes credit for Franzibald's entire career.
Filmography
Edit
Community content is available under
CC-BY-SA
unless otherwise noted.