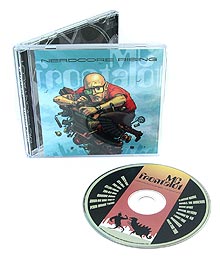 MC Frontalot - Nerdcore Rising CD is the album of MC Frontalot, who was featured in PAX. It is priced at $15.99.
Store Description
Edit
PAX Musical Super Guest MC Frontalot presents "Nerdcore Rising".
Author of the Penny Arcade Theme Song, MC Frontalot needs no introduction. He's one of the biggest names in nerdcore rap and will always be a part of PAX for years to come.
Musical guests for PAX 2004, 2005, 2006 and scheduled for 2007!
CHARITY CASE
GOTH GIRLS
PR0N S0NG
YELLOW LASERS
THIS OLD MAN
NERDCORE RISING
WHICH MC WAS THAT?
PENNY ARCADE THEME
FLOATING BRIDGE
HASSLE: THE DORKENING
CRIME SPREE
SPECIAL DELIVERY
MESSAGE NO. 419
I HEART FAGS
BRAGGADOCIO
INDIER THAN THOU
Community content is available under
CC-BY-SA
unless otherwise noted.