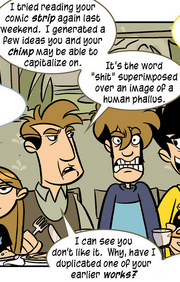 Mr. Forthwith is the father of Annarchy and the antagonistic and distant older brother of Tycho Brahe. He is married to Mrs. Forthwith. The reason he does not posses the Brahe name is due to having discarded it out of shame and hatred for his family and he left home as soon as he was able, leaving a young Tycho to deal with the horrible road trips, psychological and physical scars and years of horrid abuse at the hands of Mummy and Daddy Brahe.[1]
He is a highly successful and well educated man who spends his fortune traveling the world with his wife, leaving his daughter under Tycho's care the majority of the time. His pompous superiority and success is something that he enjoys tormenting and angering Tycho with and often mocks his writing and the crude poor humor of his webcomic. He even appears to have a far more superior vocabulary than that of his brother's, which is truly impressive.
While he does not appear to be a bad father, Annarchy appears to hate her parents to a very dire extent and has even threatened to call child protections services on them when they refused to let her go to a PC gaming tournament. She once even requested for Tycho's aid in assassinating them during Thanksgiving and hoped Gabe's pie was poisonous in order to kill herself and end her "suffering".
During Thanksgiving, the Forthwiths invited Tycho and Gabe over for dinner which did not go well as the minute Tycho came through the door he compared his relationship with his brother to that of Cain and Abel's. Mr. Forthwith then spent most of dinner berating and insulting his brother's work which greatly infuriated him, all in all it was the worst Thanksgiving they ever had.
References
Edit
Community content is available under
CC-BY-SA
unless otherwise noted.