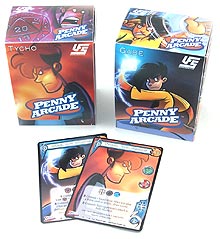 Penny Arcade - The UFS Card Game is a card game being sold in the Penny Arcade Store for $29.99.
Store Description
Edit
Portable Gabe & Tycho Deathmatch.
Sabertooth Games - the guys that put together the card games for Warhammer Fantasy and Warhammer 40k - took a crack at a game based on Penny Arcade. We think the results are exquisite.
It's a part of their new UFS system, which includes decks based on fighting games like Street Fighter and Soul Calibur. What this means is that you could play Gabe or Tycho against Chun-Li or whatever, and actually stand a chance of victory. This is not possible under ordinary circumstances.
For more information and free demo decks you can print off and play, you can head over to the Sabertooth Site.
What do you actually get?. A Penny Arcade card game that is fully compatible, and tournament legal, with the Universal Fighting System (UFS) Collectible Card Game by Sabertooth. But it's also fully stand-alone playable. You'll get one Gabe battle box and one Tycho battle box, each with 60 custom illustrated cards, a life meter card and a set of instructions.
Community content is available under
CC-BY-SA
unless otherwise noted.