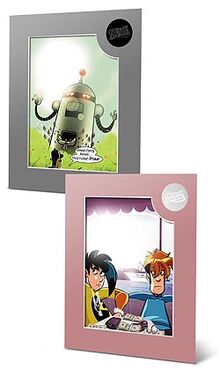 Penny Arcade 8"x10" Laser Cel are cels being sold in the Penny Arcade Store for $14.99. They are discontinued and limited.
Store Description
Edit
Two Penny Arcade Cels for the Masses.
These two prints are fancy Mylar, just like the CTS or Twisp & Catsby ones, only not numbered. Two 8" x 10" prints available:
Fruit Fucker Prime
Sweet Fancy Moses!
If you grow fruit of any kind, it's just a given that from time to time a gigantic robot will stand astride your orchard and molest it. We thought everybody knew that. Mounted on a grey mat with a black aluminum circular medallion featuring the Penny Arcade Logo.
Yacht w/Gabe & Tycho
Taste the lifestyle of a Webcomic celebrity
The stories we could tell you about the exotic, hand-rubbed woods you would see at the palatial Penny Arcade estate would stun you, especially if you are into cool woods. Think of this print as a window into that incomparable realm. Mounted on a mauveish mat with a silver aluminum circular medallion featuring the Penny Arcade Logo.
Print dimensions: 5.375" x 7.625"
Matted dimensions: 8" x 10"
Ready to frame!
Laser Cels are a lithograph technology where the image is actually printed on industrial grade Mylar. Unlike traditional animation cels and paper; Mylar will not fade, chip, crack or deteriorate. Additionally, this synthetic is immune to heat, light and moisture. However, similar to its counterparts, images printed using this process still retail the same high quality and brilliant colors found in any animated cell.
Community content is available under
CC-BY-SA
unless otherwise noted.