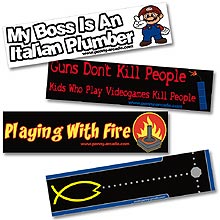 Penny Arcade Bumper Stickers are bumper sticks which are being sold in the Penny Arcade Store from $3.99 to $12.99.
Store Description
Edit
These bumper stickers were designed with cars in mind, but they're extremely sticky - you really could put them anywhere you wanted to. Put one on a vehicle that isn't a car to get a subversive thrill. Put them between two slices of bread to construct an inedible mockery of a sandwich. Put one across your eyes and run into things. You could even put one across your nose and mouth and SUFFOCATE.
My Boss is an Italian Plumber.
Guns don't kill people, Kids Who Play Videogames Kill People.
Playing with Fire.
Pacfish.
Community content is available under
CC-BY-SA
unless otherwise noted.