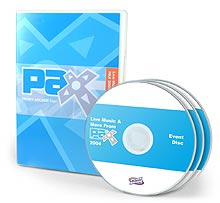 Penny Arcade Expo 2004 3-DVD Set is the first DVD released by Mike Krahulik and Jerry Holkins about their annual Penny Arcade Expo; this time being PAX 2004. It is priced at $14.99.
Store Description
Edit
Relive History In The Making!
This three DVD set has practically everything you could ever want from the 2004 PAX convention. In fact, you'll probably be completely sick of PAX by the time you get done with it.
In addition to the Penny Arcade panels, room by room overviews of the entire event, a Cardboard Tube Samurai short, and other special features too titillating to name, every panel - two days worth - is included on the first disc in Quicktime format.
The second two discs are taken up with musical performances by the likes of Optimus Rhyme, The Minibosses, and MC Frontalot - in addition to a stirring medley of Final Fantasy music performed by Conney Linn and arranged by Michael Hwang. There are a couple video errors in during the music performances, nothing too bad, but we tried to reflect that in the price.
Community content is available under
CC-BY-SA
unless otherwise noted.