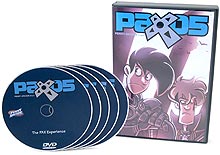 Penny Arcade Expo 2005 5-DVD Set is the second DVD released by Mike Krahulik and Jerry Holkins about the annual Penny Arcade Expo; this time PAX 2005. It is priced at $24.99.
Store Description
Edit
A 5-disc DVD set of the Penny Arcade Expo in 2005.
Includes a documentary of the Omegathon and PAX as well as complete panel and concert coverage!
The PAX Experience Disc
Edit
Follow the Omegathon as you're taken through each round of the competition up to the thrilling final round of Combat! Also includes interviews with Gabe and Tycho, PAX staff and more!
Two Concert Discs
Edit
Quoted as having "a million times better sound quality" than the PAX 2004 DVD, we're proud to present to you professionally captured concert footage from the Minibosses, MC Frontalot, MC Chris, The Video Game Pianist, Optimus Rhyme, the Neskimos and Conney Lin. We even got one of those crane cam things.
Gabe and Tycho Panel Disc
Edit
Having two one-hour question and answer sessions at PAX, hear Tycho sing the Crocolisk Song, what the guys think of pirates and ninjas, what the future holds for little Gabe and much much more.
Panel DVD
Edit
Viewable only on your computer in WMV format (we had over 7 hours to cram in!), this DVD contains the remaining industry panels from PAX 2005 including the Red vs. Blue Q&A, Breaking into the Industry, Marketing Games, Online Gaming and of course, the Pitch Your Game Idea session.
External Links
Edit
Community content is available under
CC-BY-SA
unless otherwise noted.