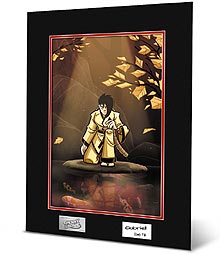 Penny Arcade Limited Edition CTS Cel is a limited edition cel that was sold in the Penny Arcade Store. It is now discontinued.
Store Description
Edit
Unmatched elegance. Exorbitant cost.
OMFG! SOLD OUT!! In under two hours!!
We are pleased to present the second Penny Arcade print, this time featuring the Cardboard Tube Samurai. The run is limited to 750 prints total, only 500 of which will be made available online. They are printed using a fancy process on Mylar, and we have heard that lasers are involved.
These cels are mounted with a double red and black mat. Each cel includes a laser-etched Penny Arcade medallion and a signature card mounted on the bottom.
Print dimensions: 12" x 18"
Matted dimensions: 18" x 24"
Ready to frame!
Laser Cels are a lithograph technology where the image is actually printed on industrial grade Mylar. Unlike traditional animation cels and paper; Mylar will not fade, chip, crack or deteriorate. Additionally, this synthetic is immune to heat, light and moisture. However, similar to its counterparts, images printed using this process still retail the same high quality and brilliant colors found in any animated cell. To complete the presentation and further define each piece as collectible, the Laser Cell prints are mounted in a double mat. Each print has a uniquely numbered laser etched medallion, as well as a signature card embedded within the mat itself. The result is a limited edition, pre-matted print that excels in beauty and quality.
Community content is available under
CC-BY-SA
unless otherwise noted.