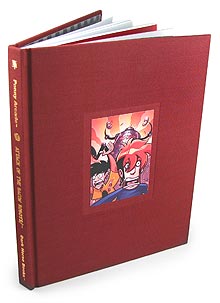 Penny Arcade Limited Edition Signed - Attack Of The Bacon Robots is the very first volume of Penny Arcade comic strips to be released, with a hardcover front and back. Each is signed by Jerry Holkins and Mike Krahulik. It is currently being sold for $30.00.
Introduction
Edit
The introduction to Volume 1 has been written by Foxtrot's very own Bill Amend. After the standard guest intro, Jerry Holkins adds a serious beginning to the book then makes it completely crazed.
Store Description
Edit
For Those In Need Of A Firmer Cover.
Readers whose dangerous lives demand a more durable product will rejoice at this limited edition version of our first book, Attack Of The Bacon Robots. Potent, rare strongium ore is woven throughout the product, not only the covers but indeed each page is virtually indestructible.
These are a one-time only limited edition run of 1500 pieces. Each is numbered and hand signed by Gabe and Tycho.
See Also
Edit
Community content is available under
CC-BY-SA
unless otherwise noted.