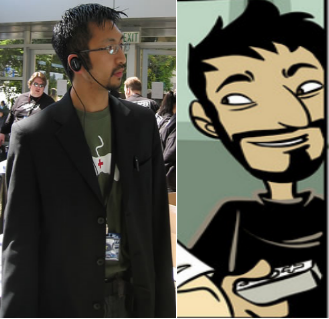 Robert Khoo is a Japanese American born in Portland, Oregon. He is the "Director of Business Development" of Penny Arcade, but is also referenced as the "Business Manager" for the company and the Show Director for Penny Arcade Expo, the largest consumer gaming show in the United States. Khoo is also quoted as being the "Managing Director" for Child's Play, the largest gamer-charity in the world.

Robert Khoo attended the University of Washington School of Business, and at one time, he was the lead business analyst for a market strategy consultancy called ProofPoint Ventures. Reportedly, he offered Jerry Holkins and Mike Krahulik of Penny Arcade a business plan and two months of work for free, no strings attached, in 2002, and has since helped build the Penny Arcade empire. Khoo has appeared in several Penny Arcade strips, Penny Arcade Podcast, and is occasionally referenced in the news posts as being very good at math, ping-pong, Soul Calibur II, Puzzle Quest and Lumines.

In Penny Arcade's third book, The Warsun Prophecies, Jerry Holkins revealed how Robert came into the company:

"Being completely reader supported was frightening, in its way-like leaving your destiny up to regional weather patterns. I guess that's what farmers do. I think farming :would really freak me out...

...We had a number of ideas about what to do next, but when simply surviving a given month is your goal it exerts a downward pressure on ambition. That changed when :another reader asked us to go out to lunch, ostensibly to talk about working together. He could tell within the space of five minutes that we were idiots idiots :desperately in need of help, like lost pets unaccustomed to the savageries of actual Earth.

He was not wrong; he was not wrong...

Robert, the man we had met, eventually to be the person who would take things seriously. this seriousness-brought with it a measure of stability. And from that stability :came PAX, the book you are reading, and even Child's Play."
Filmography
Edit
Interviews & Articles
Edit
Community content is available under
CC-BY-SA
unless otherwise noted.