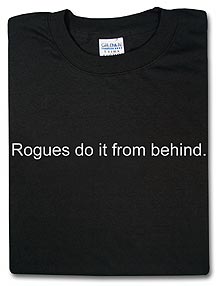 Rogues do it from behind. is a t-shirt being sold in the Penny Arcade Store for $17.99.
Store Description
Edit
Just in case you didn't already know.
It's a common misconception that Rogues "do it" from the front or even, on rare occasion, laterally. While there was a brief period in the sixties where such things might have been in vogue, these days it's understood that the best position for rogues worldwide is directly behind. Indeed, many roguish feats demand it.
100% cotton heavyweight t-shirt in stealthy black. With "Rogues do it from behind" printed on the front in white, and the Penny Arcade logo on the back - also in white.
Community content is available under
CC-BY-SA
unless otherwise noted.